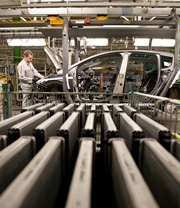 ISO/TS16949:2009
New edition of ISO/TS 16949 quality specification for automotive industry supply chain
ISO/TS16949新版标准发布
ISO has just published a new edition of ISO/TS 16949:2009, which specifies quality system requirements for suppliers in the automotive sector。
ISO已经公开发布了汽车供应链组织质量管理特殊要求的ISO/TS16949:2009新版标准。
ISO/TS 16949:2009, Quality management systems – Particular requirements for the application of ISO 9001:2008 for automotive production and relevant service part organizations, replaces the 2002 edition which has been used by the major automotive manufacturers to approve more than 35 000 organizations worldwide that produce and supply parts for the sector.
全球已有35000家以上的汽车零部件供应商组织采用了ISO/TS16949:2002版标准,它们都将更新为"ISO/TS16949:2009 质量管理体系-汽车生产及相关维修零件组织应用ISO9001:2008的特殊要求"这一新的标准。
The review of ISO/TS 16949:2002 resulting in the 2009 edition was carried out by the International Automotive Task Force (IATF) and ISO technical committee ISO/TC 176, Quality management and quality assurance. The generalized implementation of ISO/TS 16949 quality management systems by automotive suppliers is seen as an opportunity to improve quality while reducing costs.
2009版标准由国际汽车特别工作组(IATF)和质量管理和质量保证技术委员会(ISO/TC176)在原版标准基础上讨论修订。ISO/TS16949的实施能够帮助汽车零部件供应商提高质量和降低成本。
The IATF has set a transition period of 120 days from date of publication of the new edition – 15 June – for organizations to comply with the standard's requirements.
自2009年6月15日新版标准发布之日,IATF设置了一个120天的过渡期用于认证组织来满足新版标准的要求。
(信息来源:ISO)
新版标准的修订情况请见附件:《ISO/TS16949:2009标准修订情况》